Live, in-person Las Vegas and virtual event. See Prisma Cloud showcase the industry's only comprehensive code-to-cloud CNAPP (Cloud-Native Application Protection Platform) from Nov. 28 – Dec. 1 with sponsor breakout sessions, CTF challenges, demos, parties, prizes, and more.

AWS re:Invent — the most transformative event in tech — is happening November 28 until December 1, 2022. And Prisma Cloud by Palo Alto Networks will be there in full force!
Prisma Cloud is participating at AWS re:Invent 2022 with a 60 minute breakout session, a CTF experience, in-booth theater presentations, Prisma Cloud demos, and hospitality with drinks and tasty food.
Prisma Cloud Events at AWS re:Invent 2022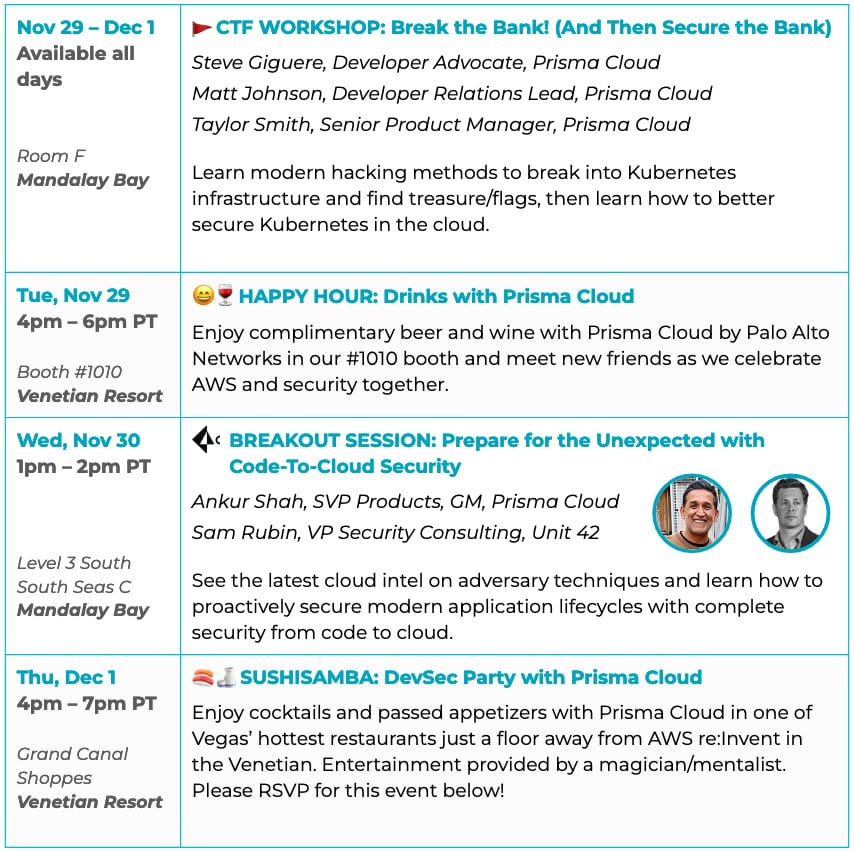 RSVP for After-Hours Fun at Our DevSec Party!
You know what DevSecOps is, and this is a DevSec Party! We're getting together to close out re:Invent with three hours of drinks and complimentary Japanese, Brazilian, and Peruviam fusion cuisine at SUSHISAMBA.
Be sure to save your spot for this private and free event by registering today for our DevSec Party hosted by Prisma Cloud!
Ask Our Experts Anything at AWS re:Invent 2022
For us at Prisma Cloud, seamless engagement with customers is a priority because customer engagements are the building blocks of great customer experiences and innovative relationships.
Please request a meeting with Prisma Cloud before you arrive or during the show. We're ready to help you improve your cloud security.
Connect with our subject matter experts and executives who can best respond to questions about protecting your unique environment with Prisma Cloud.
Join Prisma Cloud in Las Vegas!
Visit our Booth #1010 at The Venetian to chat with a Prisma Cloud expert, attend multiple in-booth presentations, see demos of Prisma Cloud for AWS, and get your badge scanned to automatically enter our raffles of a OneWheel Pint or a flying drone!
Prisma Cloud by Palo Alto Networks is ready to secure your applications from code to cloud. We are rising to the challenge of modern cloud security, innovating ahead of threats, and defining what it means to be secure from code to cloud.
Join us in Las Vegas! Register to attend now or get your free virtual pass.