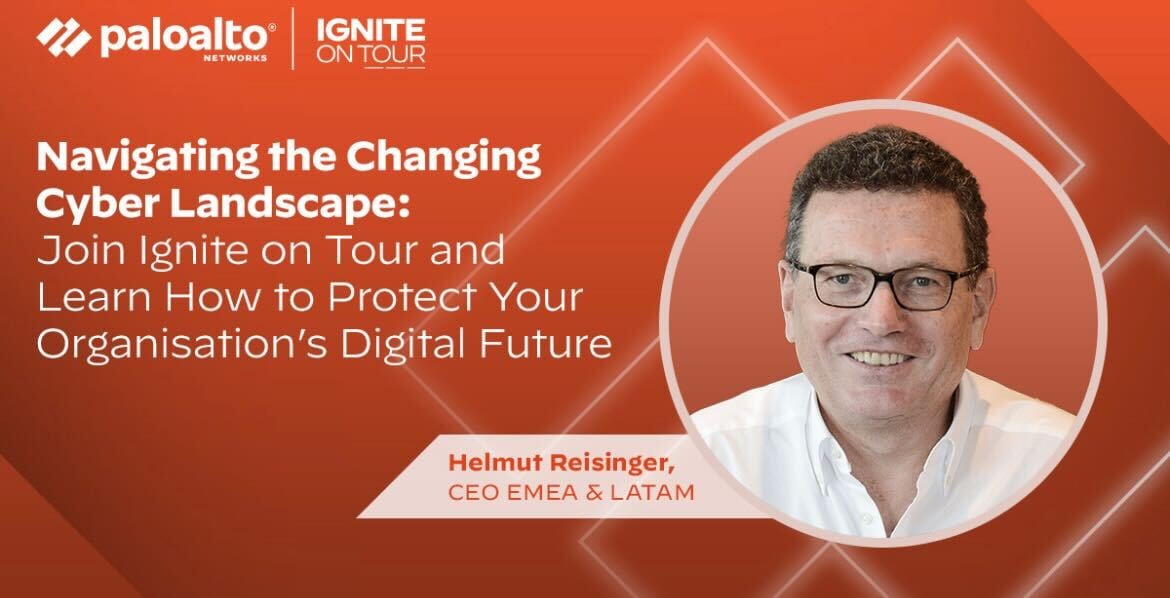 As many of you know, Ignite is a Palo Alto Networks annual innovation showcase. Digital is a global theme. Cybersecurity is a global framework. And, Palo Alto Networks is the global leader in cybersecurity. That's why we want to bring our Ignite experience to you, our customers and partners across locations in EMEA and LATAM. I am happy to present Ignite on Tour, a unique opportunity to get together, hear from experts and learn about the latest trends and innovations in cybersecurity.
The cybersecurity landscape has changed dramatically over the last two years and continues to do so. This shift is being driven by geopolitics, by the ever increasing digitisation of businesses and critical infrastructures, hybrid work, and by the growing sophistication of cyber criminals, who now have access to more funding than ever before.
As cyberthreats grow in frequency and severity, securing our digital future has never been more important. At Ignite on Tour, we will share what's happening in the threat landscape and how our cybersecurity platforms can help you secure the future. We will also be digging into some of the results from our recent What's Next in Cyber survey, which checks in with C-level executives from around the globe on the latest trends and themes in cybersecurity.
Here are some key findings that stood out to me:
Only 25% of executives believe their organization's cyber readiness and resilience is high.
At a time when cyberthreats cost millions of dollars in lost revenue and cause irreparable damage to your reputation, this statistic is concerning. Even though executives are prioritising automation and improving security operations, only 25% of leaders believe that their organisation is adequately protected. This suggests that there's still more work to be done. It is especially notable given that 96% of executives surveyed report a lack of skilled cyber professionals as one of their biggest challenges.
The top 3 threats that organisations are concerned about are supply chain threats, malicious insiders and DDoS attacks.
As the global economy continues to recover from the impact of the COVID 19 pandemic, instability in supply chains can have a serious effect on profits and growth. If a bad actor breaks into your critical data stores or initiates a DDoS attack that halts operations, it can have serious implications operationally and financially. Organisations need to effectively manage their security across their environment to ensure that all endpoints are covered, and that data is easily recoverable in the event of a cyberattack.
85% of executives say cybersecurity is on their board's agenda at least once per quarter.
Shareholders want to know that organisations are in the best position possible to protect their infrastructure and customers from a cyber attack. Now, more than ever, boards are monitoring the cybersecurity risks and the measures their organisations are taking to mitigate them.
96% of executives have experienced a cyberattack in the last 12 months.
It's not a matter of if your organisation will be affected by a cyberattack; it's a matter of when. To ensure that your organisation is adequately protected, you need solutions that are tailored to your unique business needs, with customised recommendations and expertise that augment your existing capabilities.
52% of respondents are adopting a Zero Trust framework to adapt to their growing supply chain and vendor ecosystem.
As more and more organisations diversify their network to meet increased customer demand, the need for comprehensive data protection across endpoints is no longer just "nice-to-have." Palo Alto Networks is a Zero Trust leader, and is helping organisations around the world to rebuild and simplify security to reduce risk and complexity.
Do the above insights resonate with you and your organisation? Then join the Palo Alto Networks team, key customer executives and myself in Frankfurt, Dubai, São Paulo, Paris or London for Ignite on Tour where we will explore these issues and more. These one-day, in-person events are the perfect place to quickly get up to speed on the latest trends in cybersecurity and learn firsthand about our next-generation cybersecurity solutions. Register now for one of our upcoming events:
See you there!