Securing public cloud environments with VM-Series virtual firewalls keeps getting more simple and rapid with orchestrated deployment capabilities. Back in January, we announced this feature for Microsoft Azure – and now we've extended this functionality to Amazon Web Services (AWS) with VM-Series NGFW Orchestration for AWS. Designed to save time and effort, this feature accelerates deployment time and simplifies the management, scaling, and monitoring of these virtual NGFWs.
Now available, the feature is meant to provide the thousands of enterprises that rely on the VM-Series security in AWS with an even more seamless way to leverage deep network inspection, ML-powered threat prevention and automated security workflows.
Why is Firewall Orchestration Important?
VM-Series virtual NGFWs augment AWS native controls by delivering deep inline inspection and ML-powered threat prevention for network traffic entering, leaving, and moving across Amazon virtual private clouds (VPCs). Manually managing network security in the cloud can introduce significant complexity. Until today, enterprises have made operational complexity manageable by leveraging automation and infrastructure-as-code (IaC) templates to deploy software firewalls in AWS environments.
This also can place a significant burden upon security teams responsible for managing cloud and firewall components including deployment, routing, load balancing, high availability, and scaling. In AWS, this translates into configuring and maintaining several resources including EC2 instances, VPCs, internet gateways, NAT gateways, route tables, transit gateways, autoscale groups and more.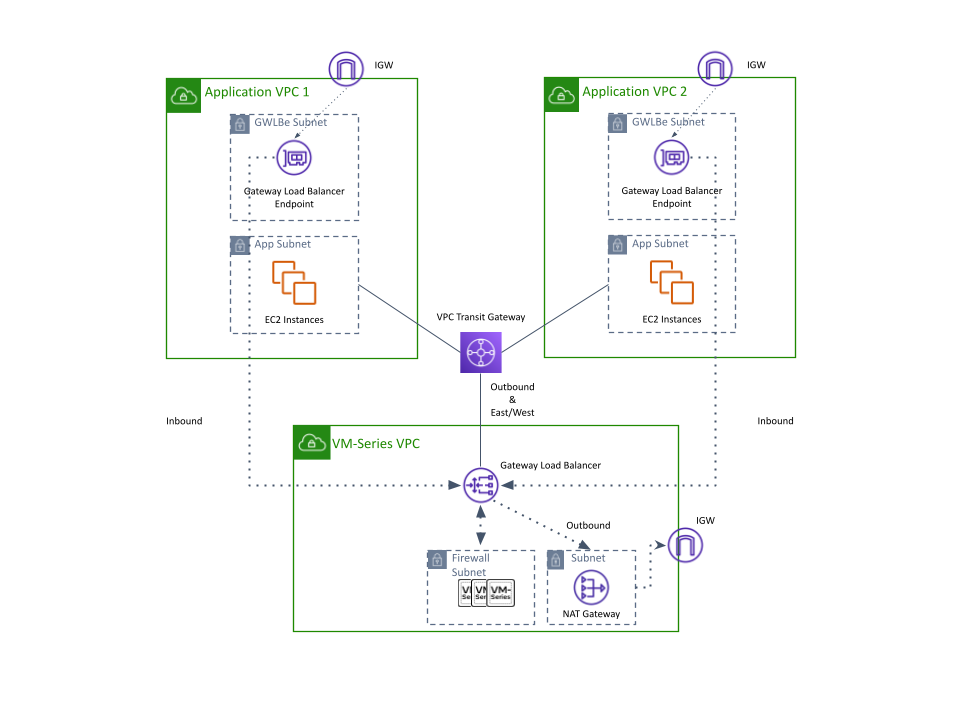 Architecting VM-Series on AWS to inspect and protect inbound, outbound, and east-west traffic
What is VM-Series NGFW Orchestration for AWS?
To remove much of this complexity and potential for user error, Palo Alto Networks now delivers VM-Series NGFW orchestration so network security teams can automate the operational effort required to run virtual firewalls on AWS.
With just a few clicks in the Panorama Network Management Solution, VM-Series customers can rapidly deploy, manage, scale, and monitor their virtual NGFWs. In addition to VM-Series firewall configuration and licensing, Panorama configures all the AWS resources the VM-Series firewall requires.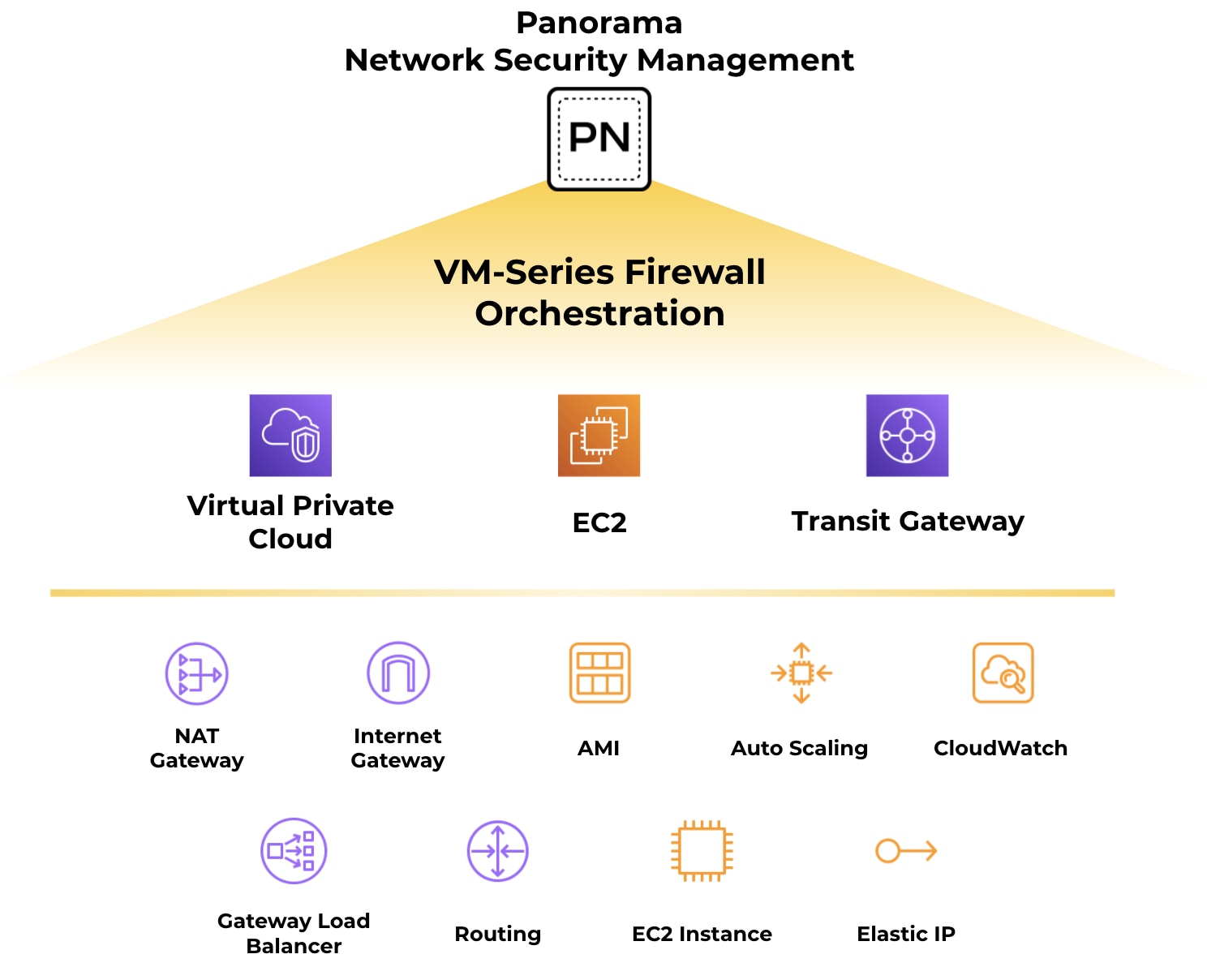 Orchestrated VM-Series firewalls and AWS dependencies via Panorama
How This Functionality Bolsters Cloud Security
Speed and ease are critical for effective cloud network security. VM-Series NGFW Orchestration for AWS consolidates all configuration tasks into a single workflow and removes the complex aspects of deploying, scaling, and provisioning VM-Series in your AWS environment. The benefits can be significant:
Gain security in minutes – Protect inbound, outbound, and east-west traffic on AWS in minutes. With just a few clicks, Panorama provides Zero Touch Provisioning of the VM-Series firewall.
Cut complexity, reduce user error with simplified management – Easily insert VM-Series firewalls into AWS. VM-Series customers can use Panorama, a tool with which they're already familiar, to orchestrate firewalls. There is no need to deeply understand the AWS components or manage third-party automation templates.
Make network security scalable – Orchestrate firewalls with scalability, performance, and high availability in mind. This new integration deploys VM-Series firewalls on AWS using preferred architectures so that network security meets scaling demands.
Leverage cost-effectiveness by design – Secure your AWS environments with a reduced number of firewalls.
Discover newfound deployment flexibility – Choose the option that best fits your requirements. This new functionality supports bring-your-own licensing (BYOL) and pay-as-you-go licensing models. This way you can choose the option that best fits your needs and budget without worrying about deployment complexity.
To see the new VM-Series Orchestration for AWS in action, watch the demo video.
And to get invaluable hands-on experience with this new functionality, visit the AWS Marketplace listings for Panorama and VM-Series to deploy in your AWS environment.