The hybrid work model—one that allows employees to move fluidly among corporate offices, branch offices, home offices, or on the road—has emerged as the new norm. And it's forcing organizations to think critically about the future of branch and mobile networking for their hybrid workforces.
The shift to hybrid work means IT administrators have become responsible for network performance that includes network segments managed by internet service providers (ISPs) or facilitated by consumer-grade routers and home wifi connections. Corporate IT teams don't maintain the ISP networks or an individual's home wifi router, which means they usually can't see if something is wrong with those networks or devices.
This lack of visibility makes it difficult for IT teams to quickly solve connectivity or access issues for their employees working outside of the office. However, IT teams remain the first point of contact when someone can't access the applications or data they need to do their jobs, whether they are home, in a coffee shop, or somewhere else. As a result, both the IT team member and employee get to embark on the inevitable troubleshooting journey that begins with everyone's favorite question: "Have you tried rebooting your machine?"
Organizations can reduce the need for this common troubleshooting scenario with Prisma SASE and its inclusion of autonomous digital experience management (ADEM) for mobile, branch, and remote offices.
ADEM simplifies IT troubleshooting for the hybrid workforce
We have designed ADEM from the ground up as a core component of Prisma Access, the security-as-a-services layer to our Prisma SASE solution, to monitor and manage user experience. IT and security teams have the advantage of centrally implementing and monitoring remote access security policies and user experience for their hybrid workforces through a single pane of glass. And because ADEM is natively integrated with Prisma SASE, no additional agents are required and no additional burden is placed on the user.
ADEM monitors the experience of all applications irrespective of where they are hosted or who owns the network infrastructure. It also continuously monitors the experience of every user as they shift between working from home, connecting over non-trusted networks, to working from the office over a trusted corporate campus network.
ADEM provides deep insights and visibility into every part of the service delivery chain impacting user experience, including device issues like incompatible version, high memory & CPU utilization, home WiFi and network issues, Internet Path issues showing hop by hop performance visibility, overlay VPN tunnel issues, and issues with the applications itself, allowing IT to quickly isolate problem domain and resolve issues.
IT teams have been able to take advantage of these ADEM capabilities since the launch of Prisma Access 2.0. With Prisma Access 2.2 and Prisma SD-WAN 5.6, we have extended ADEM for all users and branch offices, enabling organizations to gain end-to-end visibility from a single management console, without the need to deploy additional agents or appliances.
As a result, ADEM with Prisma SD-WAN can ensure the best digital experience for branch users by providing observability in the cloud and across the entire service delivery path. In addition, IT teams can leverage real and synthetic traffic analysis for both user endpoints and IoT devices to pinpoint issues easily.
With ADEM now across the entire Prisma SASE platform, organizations can gain:
SASE-native visibility across the entire service delivery path. ADEM provides deep visibility into SASE-based service delivery, from endpoint to WiFi, ISP, and all hops in between the user and the application, while delivering operational simplicity.
Segment-wise insights using real and synthetic traffic. It provides distinct visibility per segment across the entire service delivery path and expedites troubleshooting and remediation. Monitoring data collection from endpoint devices, synthetic tests, and real user traffic provides the most comprehensive digital experience visibility in a single solution.
Autonomous remediation of network and security issues. Enabling customers to quickly identify and automatically correct digital experience issues before or when they arise. ADEM uplevels your IT teams with easy-to-use single-pane visibility that leverages endpoint, simulated, and real-time user traffic data to provide the most complete picture of user traffic flows possible.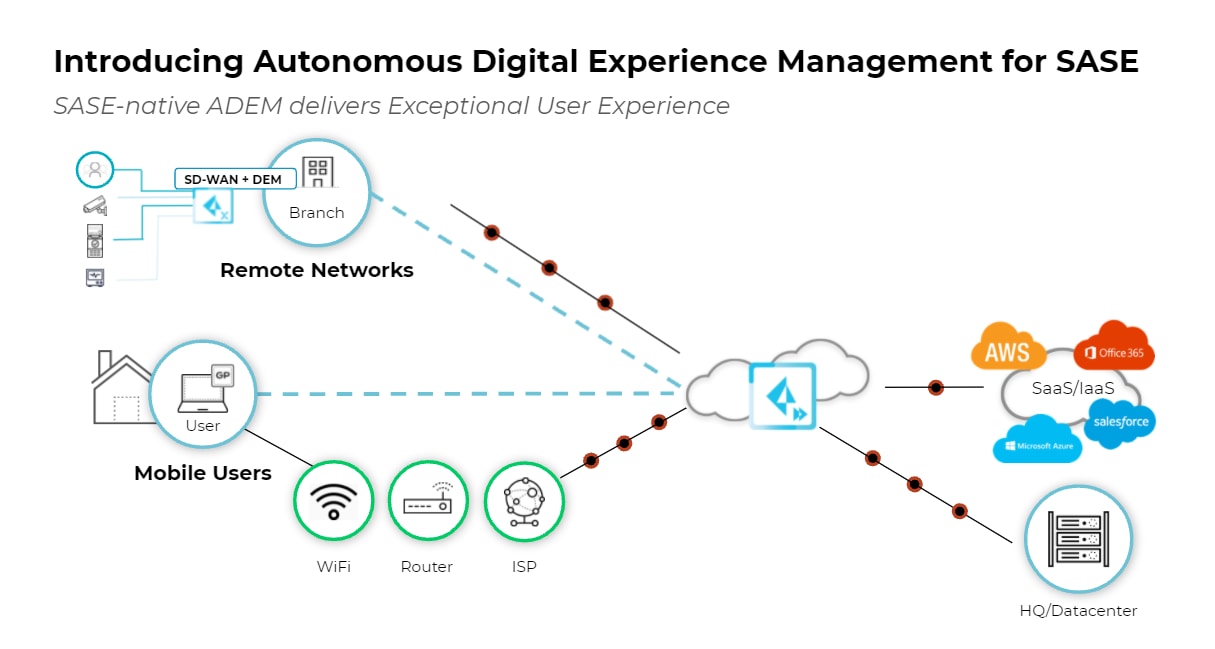 The concept of the "corporate network" has greatly expanded, providing more work for IT teams and increased opportunity for employees to become frustrated because they can't access the tools and information they need to do their jobs. Employees need consistency in both security and user experience as they move among branch, home, and other locations, and IT teams need complete visibility to support them, wherever they are located. The ADEM capabilities in Prisma SASE are here to help, empowering both IT teams and the hybrid workforce to do their best work, wherever they are.