Prisma Access, the cloud-delivered security service from Palo Alto Networks, delivers an industry-leading 99.999% uptime SLA
A question that is often asked in the industry is "Do we really need 99.999% uptime SLA…isn't 99.99% enough?" So let's start with the very basics: what is uptime, and why does it matter?
Uptime is typically defined as the amount of time that a service is operational and available. Let's take a deeper view into why five nines of uptime is critical to business continuity in a world where hybrid work has become a norm, and networking and security is increasingly converging in the cloud.
Palo Alto Networks' Prisma Access, our flagship cloud-delivered security platform, allows global organizations to seamlessly adopt Security Service Edge (SSE) and transition to Secure Access Service Edge (SASE). Prisma Access brings together ZTNA, Cloud SWG, CASB, and FWaaS in a unified product and provides customers with the most complete ZTNA 2.0 solution in a cloud-native environment using multi-cloud architecture.
In the event of a service disruption, Prisma Access seamlessly transitions to the best available cloud location to avoid costly business disruptions and ensure your users get the best connectivity. This is backed by an industry-leading 99.999% uptime availability outlined under our Service Level Agreement (SLA).
The difference between five vs. four nines is roughly 47 minutes of downtime per year, as this table shows.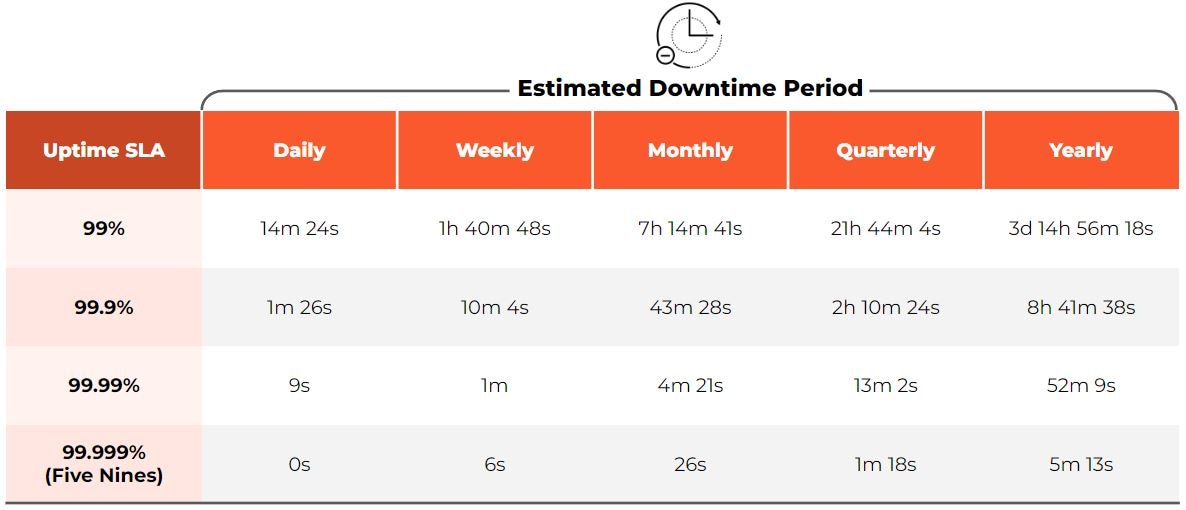 According to Gartner, the cost of downtime is $5,600 per minute on average. In a more recent study, Ponemon Institute estimates a nearly $9,000 cost per minute in downtime. Of course, this varies across industries, with banking, healthcare, and manufacturing taking the biggest hits, which can lose an average of $5 million per hour.
There can be other indirect costs in the form of lost productivity. One study states that it takes an average of 23 minutes to refocus after an interruption. Business disruption, revenue loss, and a loss of internal productivity are a few of the major impacts to such downtime, especially when it's not possible to ensure that it only occurs during off-hours.
The value Prisma Access brings is a guaranteed 99.999% uptime backed by our SLA. Our multi-cloud resiliency uniquely leverages the combined infrastructures of Google Cloud Platform (GCP) and Amazon Web Services (AWS) to improve business continuity and minimize the cost of downtime. We are able to achieve redundancy without compromising on performance.
Using multiple hyper-scale cloud providers as our backbone allows Prisma Access to avoid infrastructural outages such as the fiber optic cable that was cut in the Bouches-du-Rhone region of France. While other cloud-delivered security vendors faced major downtime as a result of this infrastructure outage, Palo Alto Networks customers remained unaffected.
The chart below shows a consistent high throughput (Y-axis) during the time period (X-axis) of the outage, resulting in no effect to business continuity and network or security performance.

Chart illustrating live throughput data for Palo Alto Networks customers during the infrastructural outage caused by a severed fiber optic cable in the Bouches-du-Rhone region of France.
Prisma Access customers were able to conduct business as usual because it uses a resilient, multi-cloud infrastructure that primarily leverages the cloud provider's private fiber network. To avoid disruptions, each region has multiple cables avoiding any single points of failure.
For example, when a link between two regions becomes disrupted, the cloud service provider can reroute traffic for customers on their additional diverse paths. Building on a hyper-scale infrastructure allows Prisma Access to achieve high resiliency and availability to conduct business operations.
We encourage you to challenge your current SSE or SASE vendor to understand the availability of their services by asking them the following three questions:
Do you offer uptime availability SLA?
Does the SLA include three, four, or five 9s of uptime?
Are all services covered in this agreement?
Many SASE services will offer different SLAs for each service, while Prisma Access thrives in maintaining five nines for uptime and security processing latency.
Learn more about how Prisma Access transforms security and networking to deliver the infrastructure and support that today's hybrid enterprises need here, and check out our blog where we discuss how to elevate SASE availability with multi-cloud redundancy on Prisma Access for a deeper understanding behind the architecture.