Security teams continue to face many challenges in their daily jobs, including the overwhelming task of sifting through large data sets to aid in identifying and responding quickly to potential threats. And while they have many tools in their arsenal, switching between these tools and interfaces can add to their burden. Fortunately, when integration is available, consolidation of tools and capabilities is possible.
Elasticsearch is a distributed engine that provides near real-time search and analytics for all types of data. It can also be used by security operations center (SOC) and SecOps teams, together with SOAR capabilities, to identify and investigate potential threats quickly and effectively. Elasticsearch SIEM helps security teams collect, store, and analyze security data from multiple sources, including network devices, servers, and applications. In this post, we'll discuss the Elasticsearch content pack and the key benefits XSOAR can provide through integration with the Elasticsearch API.
A Unified View with Cortex XSOAR
Having a unified view of an organization's security operations, a single pane of glass, makes it easier to triage, investigate, contain, and remediate threats. While Elasticsearch provides some incident management capabilities, having a single pane of glass for security operations is imperative. This unified view into incidents can help security teams identify potential threats and quickly take action to protect their organization.
It also helps security teams automate and streamline their operations. With Cortex XSOAR, teams can automate many of their manual processes and reduce the time spent on routine tasks, freeing their time to focus on more critical tasks. Collaboration is critical, and a simplified workflow helps teams collaborate more effectively by sharing information and working together to respond to incidents.
With this integration between Palo Alto XSOAR and Elasticsearch, security teams can use Elasticsearch's ability to run search and analytics against large data sets from XSOAR with no need to pivot between tools.

Integration Benefits
Security teams can also fetch incidents generated by Elastic and search through large volumes of data quickly and easily. Elasticsearch is designed to handle large amounts of data, so this integration with XSOAR is invaluable for teams using Elastic as a data lake or even as their main SIEM.
You can automate and streamline security operations, get detailed insights into your data with Elasticsearch's powerful analytics capabilities, and use machine learning to model your data behavior in real-time. For example, you can identify trends and patterns and track incidents' progress over time.
Elasticsearch Content Pack Use Cases
The Elasticsearch content pack contains incident types, fields, and mappers to rapidly deploy and integrate with Elasticsearch. Use cases accessed through this integration include:
Adding a search box to an app or website.
Storing and analyzing logs, metrics, and security event data.
Using machine learning to automatically model your data's behavior in real-time.
Automating business workflows using Elasticsearch as a storage engine.
Managing, integrating and analyzing spatial information using Elasticsearch as a geographic information system (GIS).
Storing and processing genetic data using Elasticsearch as a bioinformatics research tool.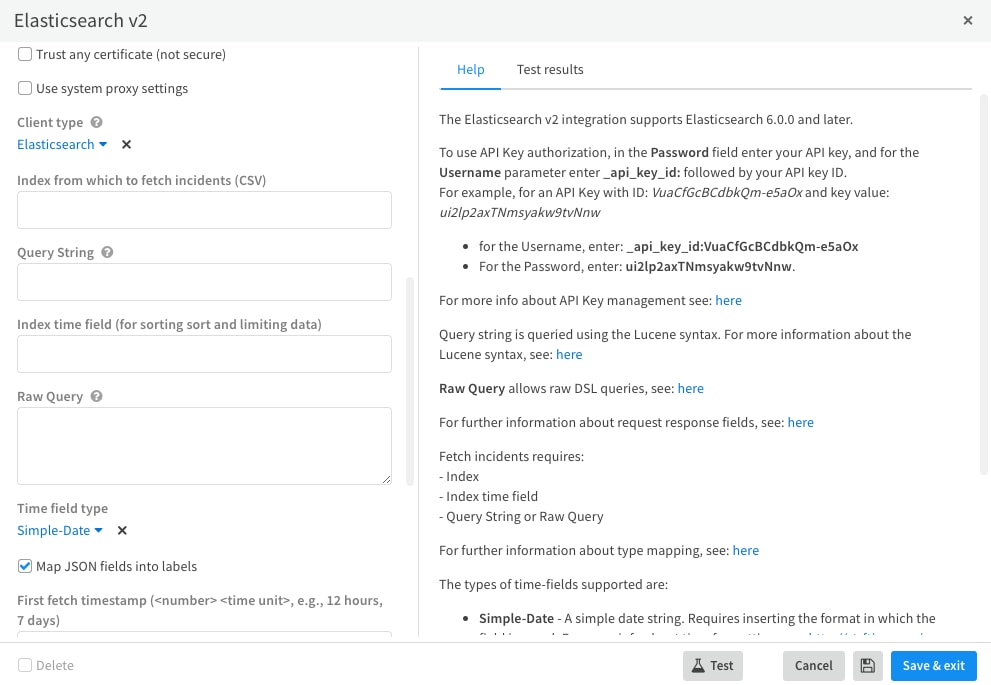 You can also query Elasticsearch instances using DSL, EQL, and Lucene syntaxes, or, you can fetch incidents with a predefined query.
For more information on the Elasticsearch content pack, refer to the developer article here. If you like these ideas or would like to suggest other ideas, please collaborate with us through the Cortex XSOAR Aha page. Please suggest ideas or vote for others.
Don't have Cortex XSOAR? Download our free Community Edition today to test out this playbook and hundreds more automations for common use cases you deal with daily in your security operations or SOC.