Prisma Cloud has extended its cloud posture management, cloud workload protection, and cloud network security protections to OCI, and VM-Series now offers multiple, new Oracle Cloud Marketplace listings.
Prisma® Cloud by Palo Alto Networks, the industry's only comprehensive Cloud Native Security Platform (CNSP), is pleased to announce that we are extending support to protect Oracle Cloud Infrastructure (OCI). Customers who may already have experience with Oracle Cloud® or are otherwise interested in leveraging high-performance, reliable and cost-effective compute on second-generation OCI can now further augment the security of their expanding cloud operations across multi- and hybrid-cloud with industry-leading cloud native security for OCI.
Additionally, Palo Alto Networks VM-Series – the industry's only ML-powered virtual Next-Generation Firewall (NGFW) – is now available on the Oracle Cloud Marketplace with four new Pay-As-You-Go (PAYG) listings. Organizations may now choose on-demand consumption of our best-in-class Layer 7 NGFW for network visibility and threat protection, just like cloud infrastructure.
"We're thrilled to partner with Palo Alto Networks, enabling our customers to extend the protections of Prisma Cloud and VM-Series across their Oracle Cloud Infrastructure (OCI) environments," said Clive D'Souza, general manager and senior director engineering, Oracle Cloud Infrastructure. "OCI is architected with a security-first approach as a core underpinning; our partnership with Prisma Cloud and VM-Series enables enterprise customers to further enhance security of their cloud workloads on OCI."
Visibility, Compliance and Governance With Prisma Cloud for OCI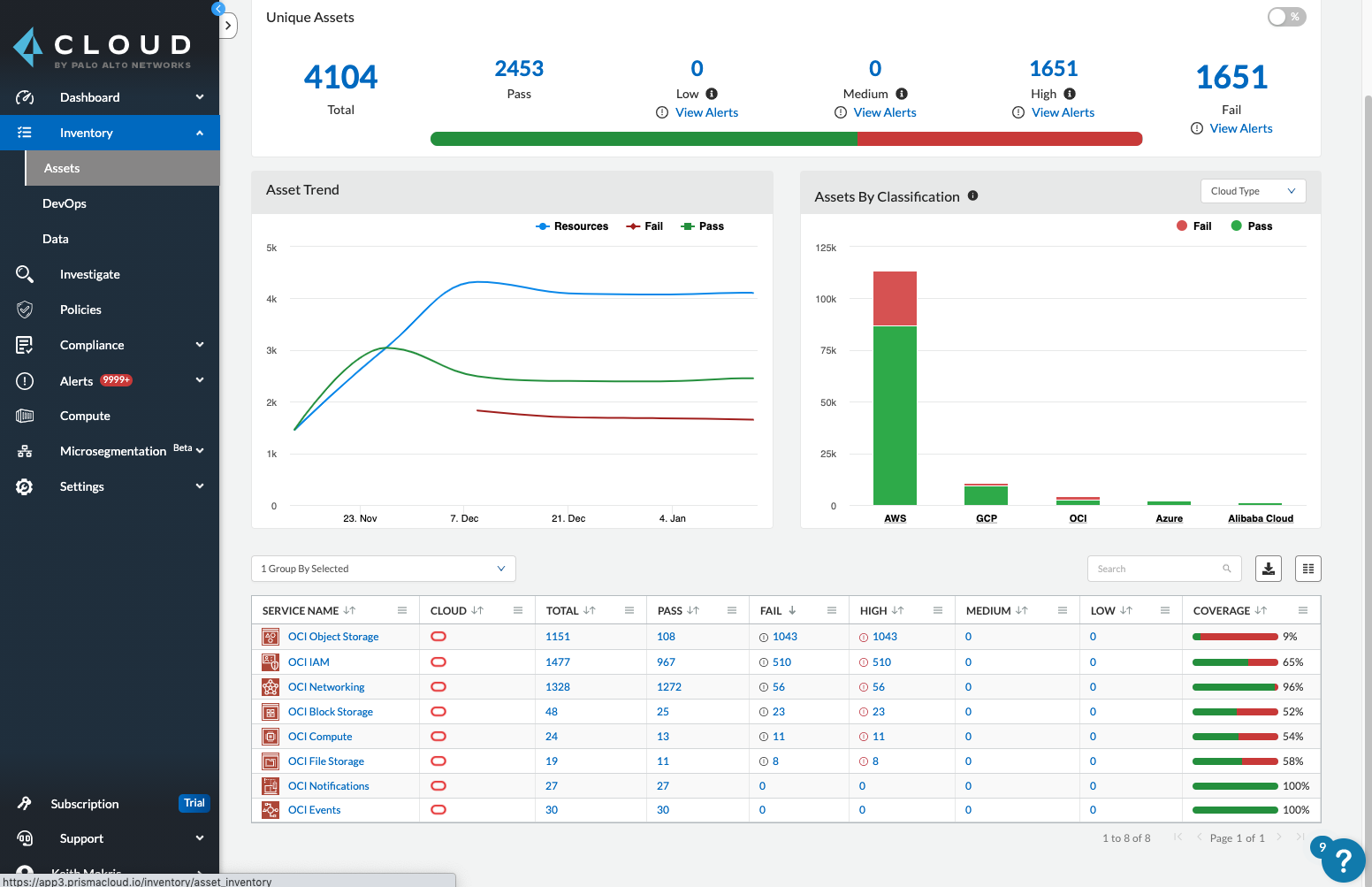 Figure 1: Inventory of OCI cloud resources and assets secured with Prisma Cloud
Cloud and security teams using Prisma Cloud on OCI can quickly get onboarded and gain comprehensive visibility for all multi- and hybrid-cloud assets in a single console to help understand their cloud attack surface. Teams can effortlessly set and confirm cloud security posture governance with pre-built point-and-click OCI policies, and also download PDF compliance reports in a single click. Extend your protection with security operations (SecOps) telemetry integrations for security operations center (SOC) tools like Splunk® and orchestration tools like ServiceNow® to help effectively manage enterprise digital workflows.
Cloud Security Posture Management (CSPM) is also necessary for effective and simplified operations across cloud environments, especially for organizations that must comply with regulatory mandates. Prisma Cloud helps support compliance with continuous visibility on all OCI resource inventories and governance that establishes API-driven guardrails with more than 40 pre-built OCI policies that assess misconfigurations, including integrated support for the CIS OCI Foundations Benchmark for cloud compliance.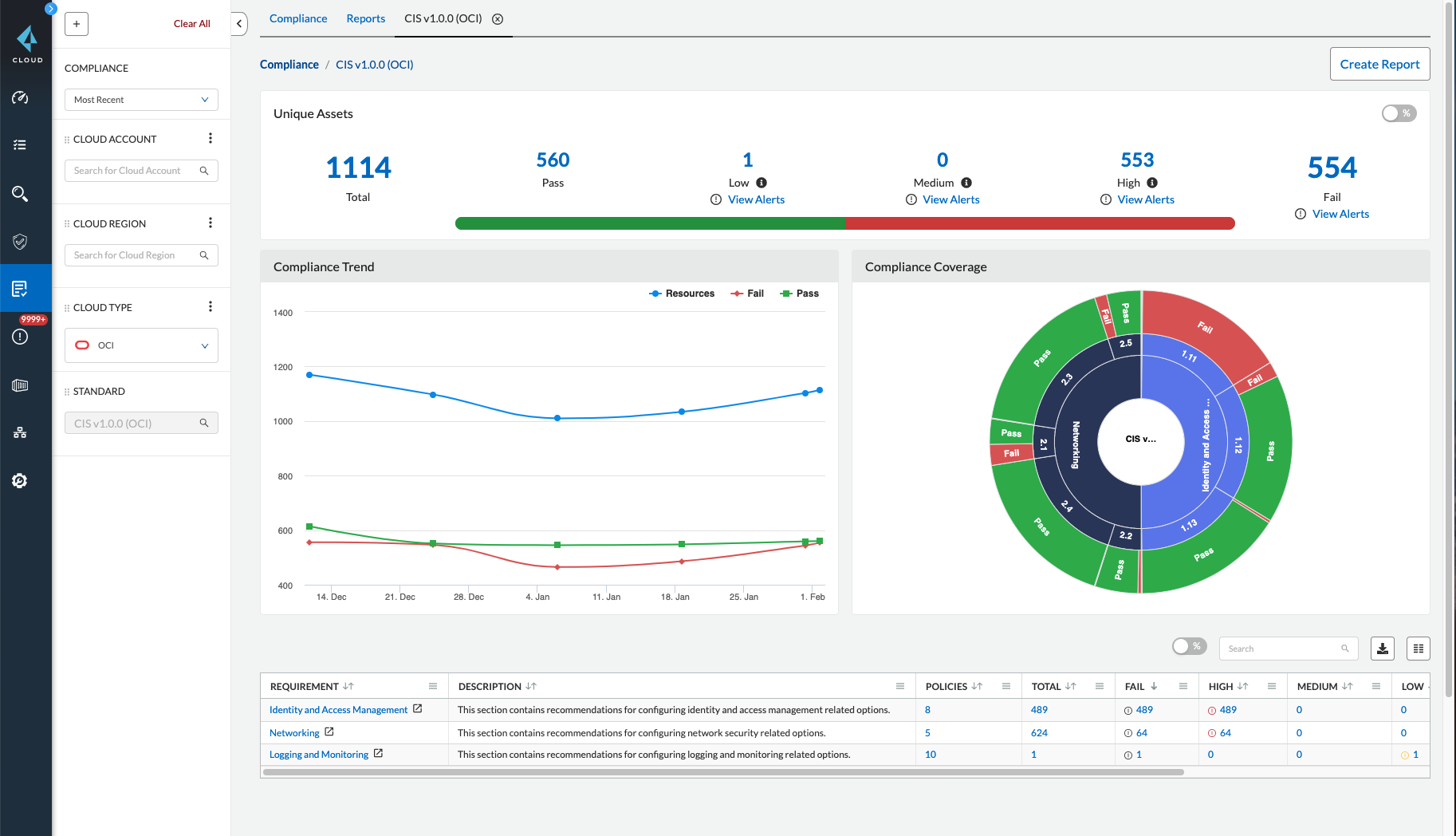 Figure 2: Prisma Cloud dashboard for CIS OCI Foundations Benchmark compliance
Our integrated API ingests data from the five major Cloud Service Providers (CSPs) to help secure resources and assets, and ensure protections for compute, network, storage and identity and access management (IAM).
New enhancements to our Prisma Cloud Resource Query Language (RQL) also enable customers to query and investigate OCI with a powerful and flexible query language that confirms configurations of deployed OCI and other cloud resources. Quickly gain visibility and insights into security events and use these insights to create policy guardrails that secure the posture of your OCI and multi-cloud environments.
Comprehensive and Full Lifecycle Cloud Native Security Across the World's Largest Public Clouds with 2.5 Billion Total Assets Monitored and Protected
Prisma Cloud now offers the simplified operational benefits of a single pane of glass for the five biggest clouds: Amazon Web Services (AWS), Microsoft Azure, Google Cloud, Alibaba Cloud and OCI.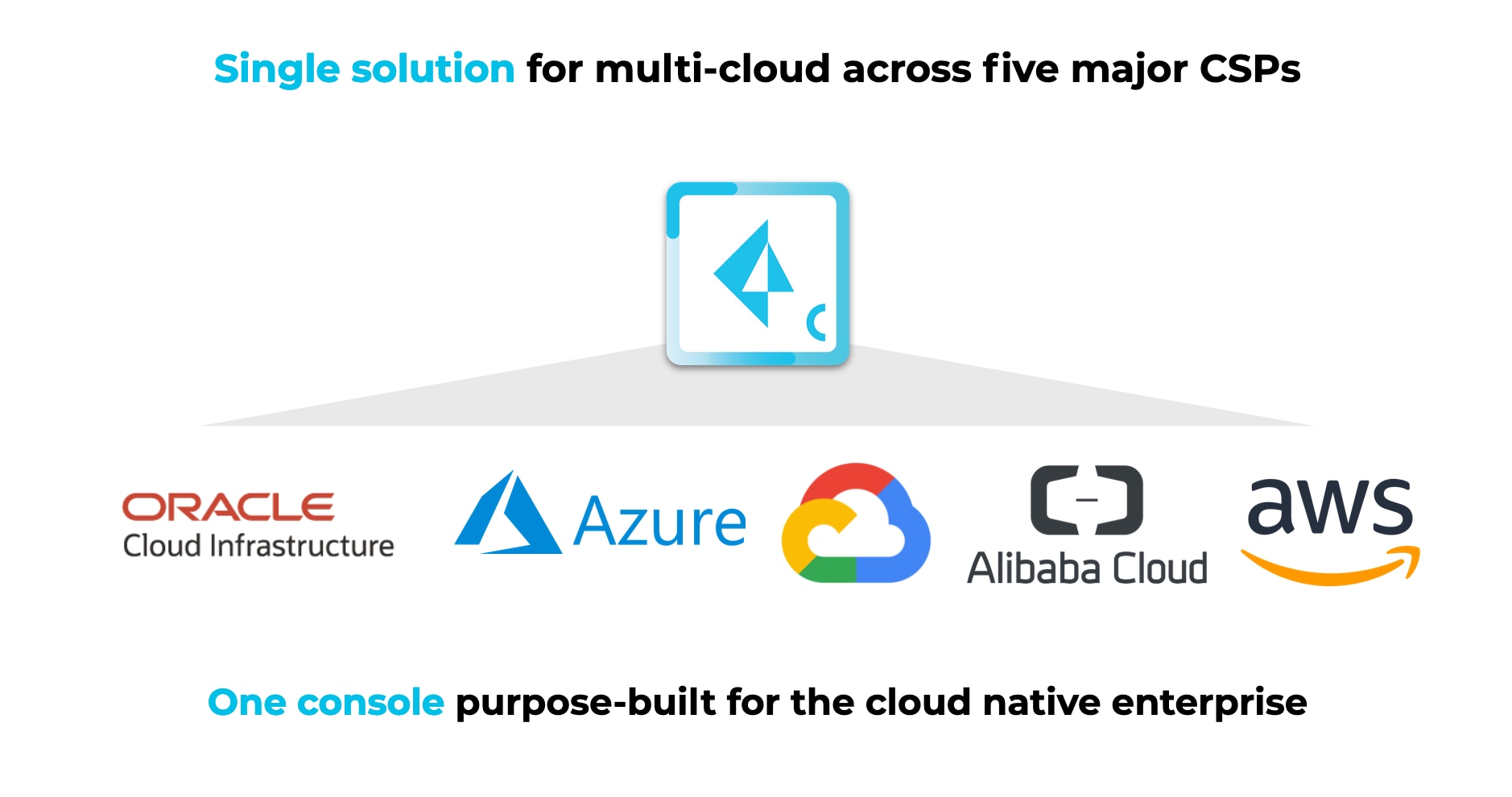 As a complementary module to CSPM, Prisma Cloud also delivers a Cloud Workload Protection Platform (CWPP) for Hosts and Containers on OCI as well as Web Application and API Security (WAAS) in order to deliver full stack security for cloud native applications.
Prisma Cloud helps secure cloud virtual machines (VMs) and applications running on Oracle Kubernetes Engine (OKE), while integrating security into continuous integration and delivery (CI/CD) workflows. And Prisma Cloud supports Oracle Cloud Infrastructure Registry (OCIR) to continuously monitor vulnerabilities and compliance status of your container images.
In addition to CSPM and CWPP, Prisma Cloud delivers Cloud Network Security controls for OCI with integrated Identity-Based Microsegmentation to protect your workloads in OCI by reducing the cloud attack surface and preventing the lateral spread of breaches.
Understand how all of your cloud workloads communicate using our application dependency map and generate microsegmentation policy without requiring any knowledge about your OCI network architecture. Our Identity-Based Microsegmentation uses cryptographic identity – instead of IP addresses – to filter intra- and inter-app communications, ensuring a Zero Trust posture for your OCI and multi-cloud environments.
New, Flexible VM-Series Marketplace Offerings for Layer 7 Visibility and Network-Based Threat Protection
The Palo Alto Networks VM-Series NGFW delivers prevention-based network security for your applications and data on OCI without forcing tradeoffs between minimizing risk and maintaining the speed of business.
With our newly released VM-Series Oracle Cloud Marketplace offerings, customers now have the option to consume the industry's only ML-powered virtual NGFW protections for OCI with either our flexible bring-your-own-license (BYOL) listings or our new PAYG listings that allow security teams to consume VM-Series on-demand.
Security teams working with OCI benefit from deep visibility into virtualized applications, users and content in motion because understanding how applications communicate across your environment, including encrypted communications, helps you make informed security policy decisions.
VM-Series also prevents known and unknown threats from entering and moving across Oracle Virtual Cloud Networks (VCNs). In fact, our NGFWs receive 4.3 million unique security updates every day for maximum protection.
VM-Series further helps streamline your OCI network security operations with centralized management and automation features that enable you to embed security directly into application development workflows. For instance, the Panorama™ network security management solution gives you unified visibility and network security policy management across your entire OCI environment, as well as across hybrid- and multi-cloud environments.
Secure OCI With Prisma Cloud and VM-Series – Now and in the Future

Palo Alto Networks is a trusted Oracle Partner Network (OPN) Partner and an Oracle Cloud Marketplace seller. If you are new to OCI and want to experience best-in-class security with Palo Alto Networks, sign up for an Oracle Cloud Infrastructure trial account and visit our security solutions on the Oracle Cloud Marketplace.
To learn more about VM-Series Next-Generation Firewalls for OCI, including features and capacities, please visit our product selection guide, browse our powerful OCI performance, and visit our VM-Series offerings on the Oracle Cloud Marketplace.
To learn more about Prisma Cloud for OCI, or how to expand your cloud security with cloud native and integrated features like CSPM, CWPP, and Cloud Network Security, view our OCI Datasheet and visit Prisma Cloud online.