In the post-pandemic world, organizations are harnessing the power of hybrid work and digitization to unlock productivity and new business models. This has meant an unprecedented level of digitization to accommodate distributed workforce, applications and an explosion in the number of devices:
74% of businesses have a permanent hybrid work model to enable employees to work flexibly a few days from the office and other days in their homes.
An increase in cloud and SaaS applications for collaboration and productivity has led 95% of organizations to use public cloud services with plans to move almost 50% of business-critical applications to the cloud in the next 36 months.
65% of attacks originate from the exposure of user data, while exponential growth in IoT devices continues to create new vulnerabilities. Recent research from Unit 42 found that 57% of IoT devices are highly vulnerable, 98% of IoT traffic is unencrypted, and 83% run an unsupported OS.
At our virtual Branch of the Future event, we will showcase how next-generation SD-WAN and SASE can help deliver a branch network that is digital-first, secure and powered by the latest AI/ML innovations.
Yesterday's Solution Can't Solve Tomorrow's Challenge
Current networking solutions do not take into account the realities of the new branch office. Gen-1 SD-WAN solutions addressed the early challenges of using inexpensive broadband connectivity for data center applications. However, Gen-1 SD-WAN products do not provide active-active connectivity for SaaS, internet and cloud applications, do not provide availability models that are fully resilient to single device failure, and are not able to deliver Zero Trust security for the branch office.
Prisma SASE Delivers the Branch of the Future
With these challenges in mind, we believe we need to reimagine the branch architecture with four key principles.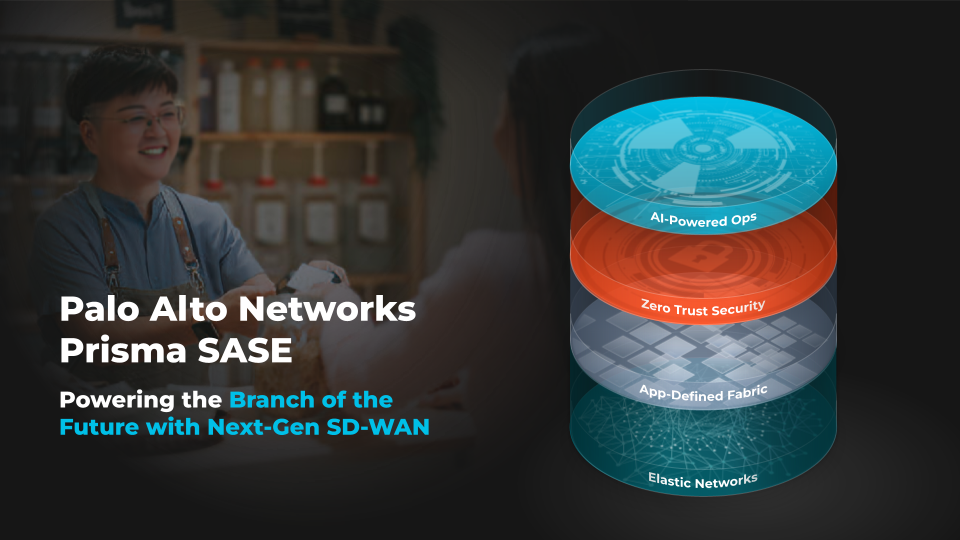 Prisma SASE with next-generation SD-WAN delivers the following differentiated capabilities:
Elastic networks flexibly support multiple WAN connections, like 5G, MPLS, broadband and satellite, in an active-active model. Unlike every other SD-WAN solution, Prisma SD-WAN ensures that a single device failure does not result in the loss of any WAN capacity. Prisma SD-WAN's centralized controller-based architecture seamlessly builds, manages and updates the network with no routing complexity.
App-defined fabric provides direct-to-app access that ensures an exceptional user experience for all applications, including SaaS, cloud and private applications. Unlike Gen-1 SD-WAN solutions that only provide traffic engineering for data center applications, Prisma SD-WAN delivers SLAs and the best user experience for all applications.
Zero Trust security with zero compromises for your branch office means that all apps, people and things have to be secured. Prisma SD-WAN is natively integrated with Prisma Access for a unified SASE solution. Prisma Access provides ZTNA 2.0 as a highly distributed service that secures your branch office. Deep integration between Prisma SD-WAN and Prsima Access provides the industry's first integrated IoT security that identifies all IoT devices, views security policy recommendations, and enforces these policies. Prisma SASE is the only solution that can secure all your applications and things without additional products needing to be deployed.
AI-powered operations leverage native Autonomous Digital Experience Management (ADEM) to provide deep observability and AIOPs to help organizations automate complex and manual Day 2 IT operations. Prisma SASE is the only solution that captures and analyzes real traffic and synthetics from the user to the application to proactively analyze issues, automate troubleshooting and prevent outages.
Your branch requirements are changing. Prisma SASE delivers the network, security and automation required to power your branch of the future.
Join us for this exclusive virtual event; we've partnered with SDxCentral to showcase the latest innovations and conversations with a leading practitioner and an analyst — all designed to help you prepare your branch for tomorrow's opportunities, today.