Strong security hygiene stems from fully adopting an advanced, holistic security tool. As Prisma Cloud continues to launch new features and modules, it may become more challenging to stay up to date on all of the latest capabilities. Customers have told us they want an easy way to gain more visibility into their adoption journey, understand what product capabilities their organization is leveraging, and learn which capabilities they have yet to take advantage of.
In response to these valuable customer insights, we're excited to announce that tracking and measuring your adoption of new features and existing capabilities on Prisma Cloud just got easier!
The new Adoption Advisor dashboard helps you make the most of your investment and provides guidance on using the full complement of Prisma Cloud features to help improve your overall cloud security posture.
Here's what the Adoption Advisor brings to users:
Centralized Dashboard for Prisma Cloud Capabilities
The Adoption Advisor is automatically available for users—there is no activation needed. The dashboard can be found in the left navigation panel, marked by the flag icon labeled "Adoption Advisor."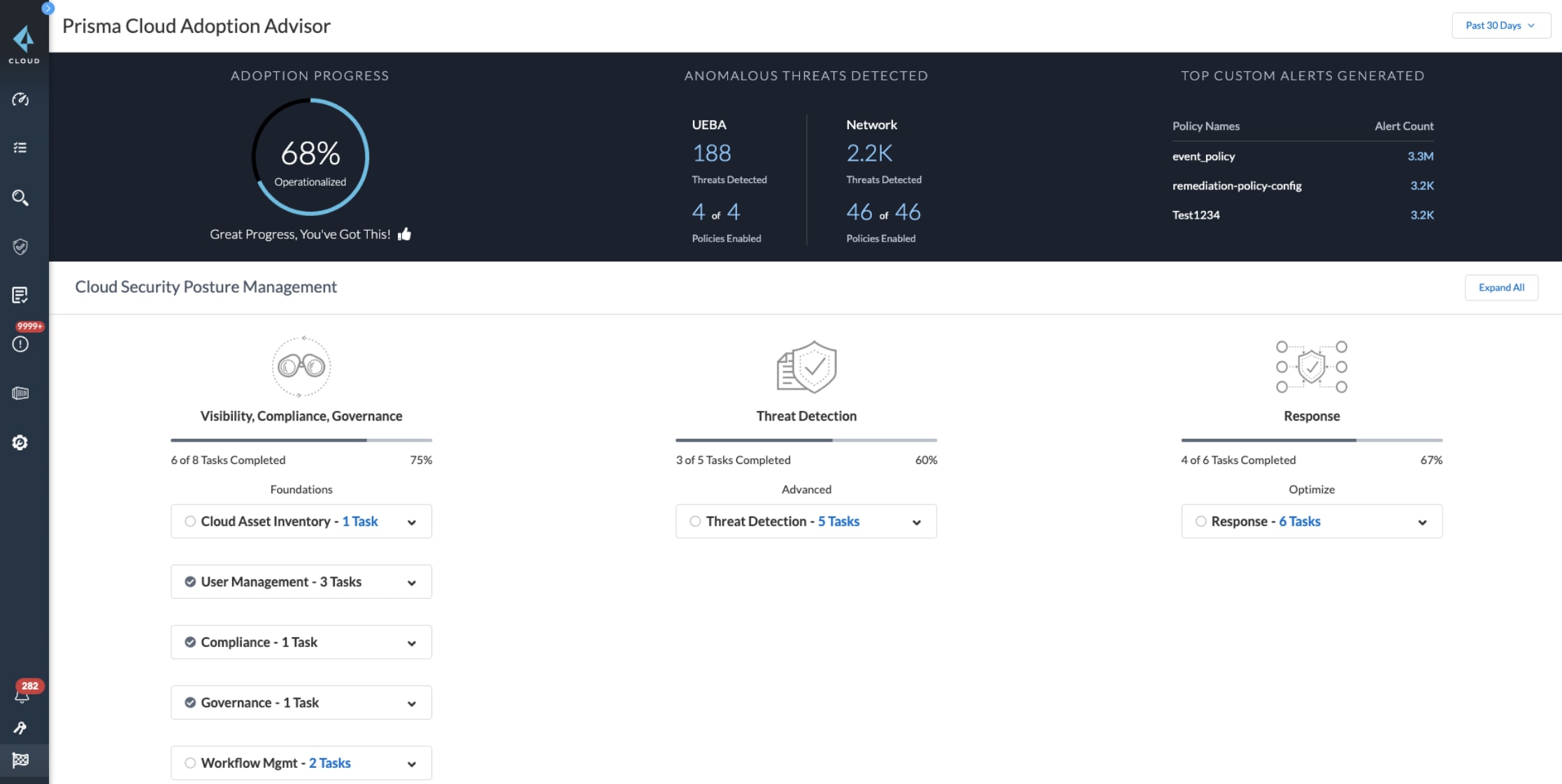 The initial view within Adoption Advisor provides a high-level overview of adoption progress alongside current threats being detected and alerts being generated.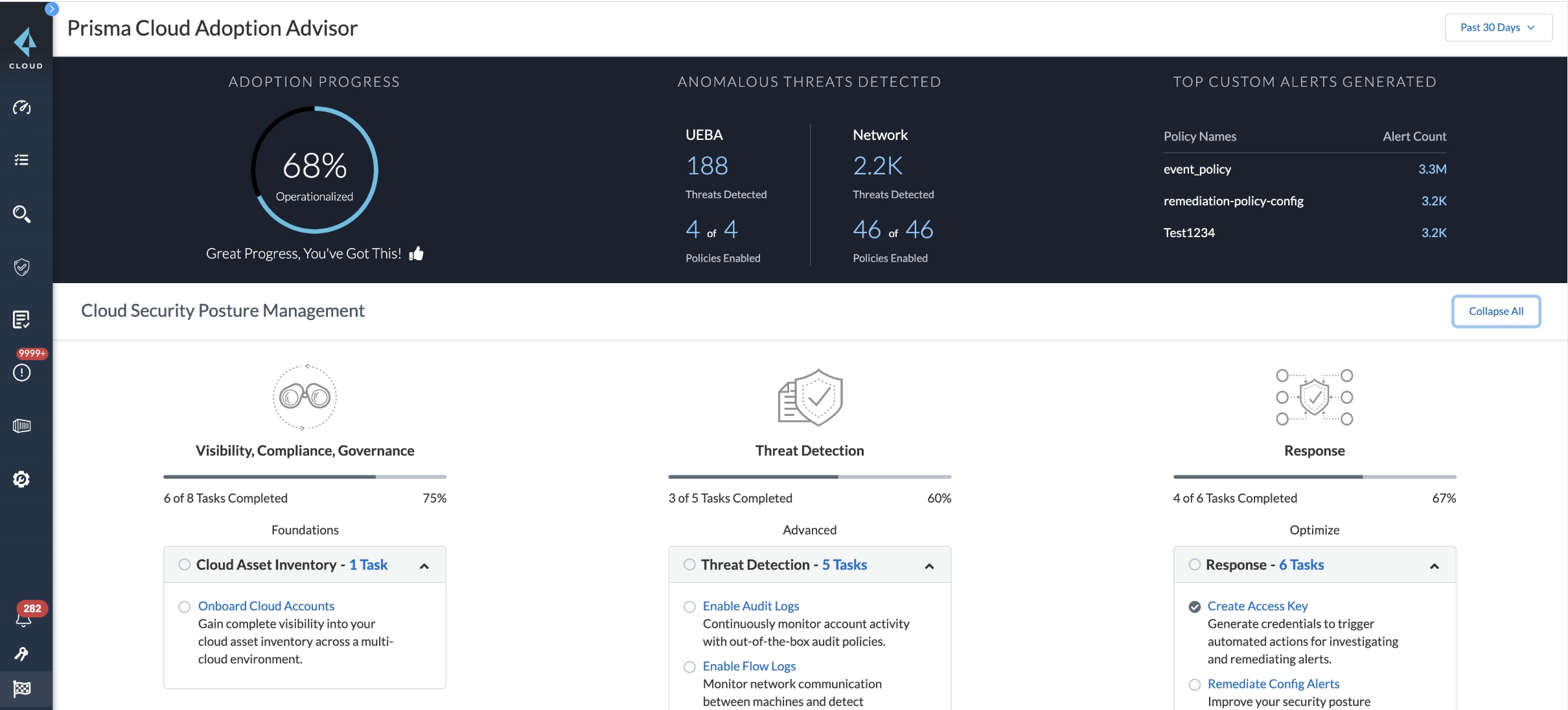 Within each column, you can expand the categories to see task lists  for operationalization and guidance for enabling more features in Prisma Cloud.
Guided Walkthrough Experience
When you click a task, a window appears with a summary of the activity. The "Actions to complete" menu then provides a three-step summary of each task. Clicking the blue button on the bottom right-hand corner redirects you to the appropriate tab or page so you can easily locate the features and quickly enable them.
For more details on each task, click "Learn More on Tech Doc" to read the Prisma Cloud technical documentation.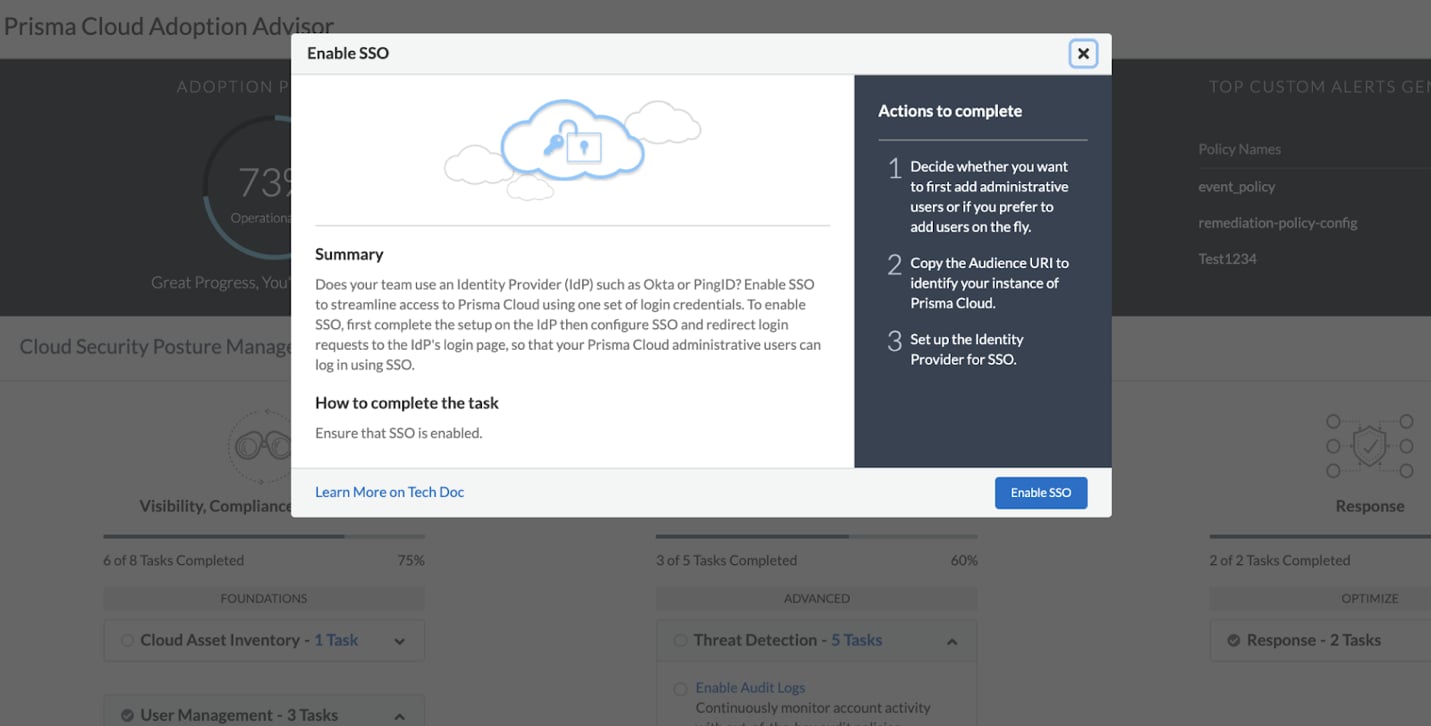 Easy Discoverability of New Features and Modules
Prisma Cloud offers myriad capabilities, and the Adoption Advisor is a simple way to keep track of what's new in the product.
It is currently in Beta, and lists capabilities for the Visibility, Compliance, and Governance and Threat Detection modules within Cloud Security Posture Management (CSPM).
Soon the dashboard will encompass tasks across other modules to ensure you and your team are taking full advantage of what Prisma Cloud has to offer, such as Cloud Workload Protection, Cloud Identity Security, Data Security, and Identity-Based Microsegmentation.
To learn more about Adoption Advisor and our latest Prisma Cloud 3.0 launch, visit the Prisma Cloud latest page.