Investment in security orchestration, automation, and response (SOAR) capabilities can improve SOC efficiency, reduce manual errors, and provide better visibility into security threats for incident response. As the market for SOAR matures and the SOC continues to transform, the idea of "no-code security automation" has become another marketing term designed to help sell simplicity. The promise of codeless development is compelling and in some cases a great way to kickstart new initiatives. But, is fully no-code automation actually achievable?
The promise of no-code automation
Codeless automation, also known as "no-code" automation, continues to gain popularity as a way for organizations to automate their processes without the need for extensive programming knowledge. Instead of relying on new code to build automation, analysts can leverage pre-built workflows and templates that can be configured and customized to suit an organization's needs. This approach empowers non-technical users to build software applications, workflows, and integrations through visual interfaces and drag-and-drop tools. No-code platforms typically offer a low-cost and fast solution for businesses that want to automate repetitive tasks and improve productivity.
Limited flexibility = Limited scope
While no-code automation is designed to be user-friendly, it ultimately is limited in functionality and in most cases still requires some level of technical expertise. To properly implement SOAR, organizations will need an internal champion who understands the underlying technology, can identify and prioritize the workflows that need automation, and can troubleshoot issues that arise. In the absence of technical expertise, businesses may struggle to use the platform effectively to achieve their goals.
For small organizations with simple automation requirements, limited IT resources and minimal budget, no-code solutions can be a great starting point for their automation journey. But what happens as the organization grows? Will their changing needs continue to be met? With growth comes complexity, an increase in tools and vendors, and evolving infrastructure.
There is no one size fits all
Organizations need flexibility, but no-code automation is restrictive, with very limited options for customization. Without the ability to access the underlying code, users may not have complete control over the automation process and may be unable to modify playbooks for their own use cases. This can be a problem in the SOC, where the ability to respond quickly and effectively to different types of incidents is crucial. Users receive only pre-built templates and workflows, which may not meet specific business requirements and if not properly configured can end up leading to disjointed processes and gaps in security.
The solution should grow with your business
The tradeoff for simplicity and ease of use is that no-code typically doesn't extend to support more complex needs. To solve complex problems with automation, you need coding for customization and a platform that can support the limitless possibilities your organization requires for workflow management. Codeless automation can also be more expensive in the long run, as organizations may need to purchase additional modules or add-ons to expand capabilities.
Technology is always evolving
Change is a certainty, and a necessity, when technology is involved. Working with new vendors and technologies requires the support of many different API integrations and security processes. No-code offerings typically have a smaller, limited number of integrations available. Without even the simplest of coding modifications, it can be difficult to welcome new tools and integrations across an expanded security toolset.
Bottom line
Organizations can solve complex problems through automation. SOAR solutions can help achieve this, and having the built-in flexibility to modify and customize code is needed to take advantage of the full capabilities that automation can provide. Low-code platforms offer a better alternative and happy medium for organizations who do not have the time or resources to build and manage automation but also understand that some use cases for their organization are more complex than pre-built workflows will enable.
Cortex XSOAR: The best of both worlds
Cortex XSOAR's low-code automation solution combines the simplicity that organizations desire with the flexibility needed to achieve security automation goals. The truth is that many of the most common use cases can be leveraged with little to no manual effort or coding knowledge.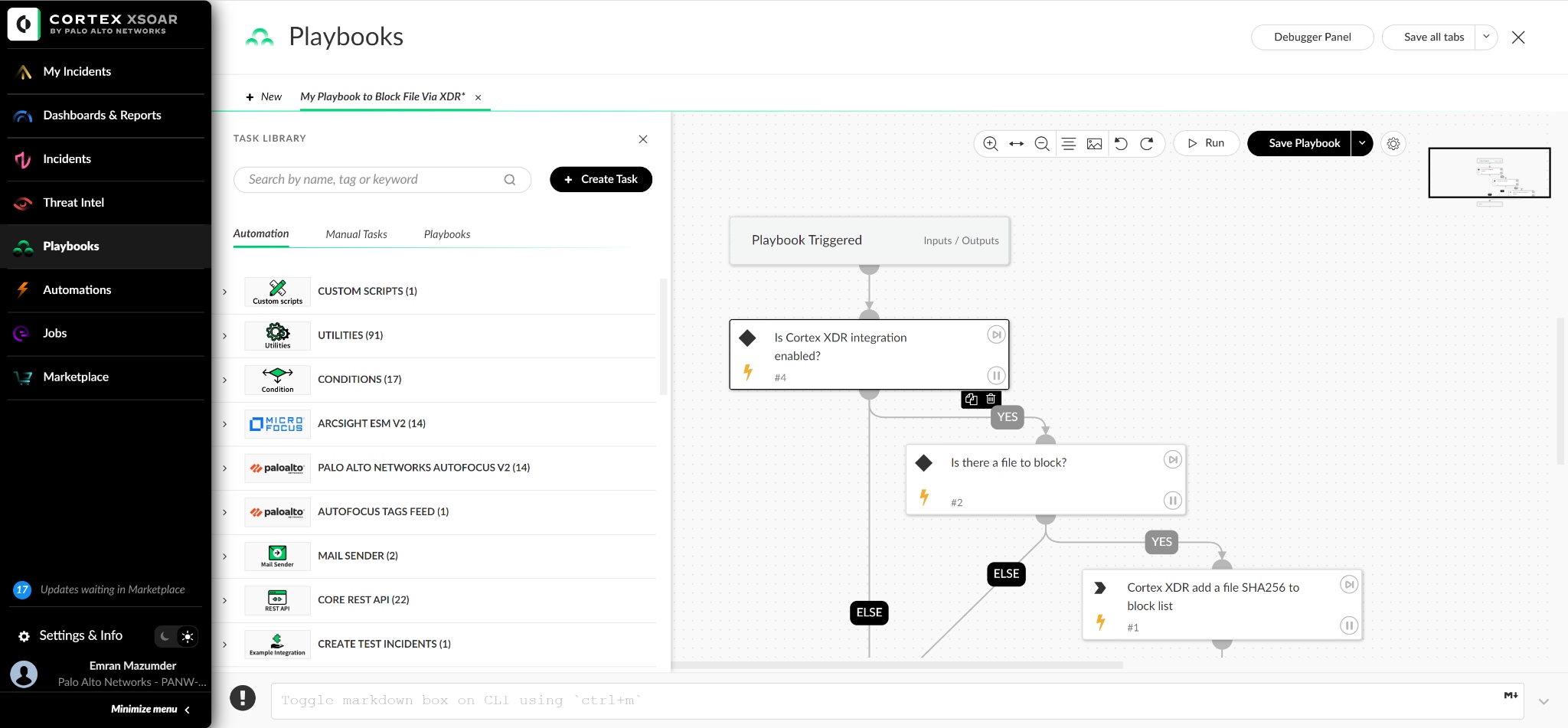 Cortex XSOAR offers 900+ out-of-the-box integrations, pre-built playbooks and automation scripts. A visual playbook editor enables code-free automation with an easy drag and drop interface.If customization is needed, rest easy knowing that simple modifications are possible to meet your requirements. Once you've mastered the common use cases, you can build out new automation workflows end-to-end and rely on a community of experts, additional training, or our customer success team for support.
Don't have Cortex XSOAR? Download our free Community Edition today to start your security automation journey, streamline your SecOps processes and eliminate overwhelming busywork.