You know automation can help your team by reducing effort for manual and repetitive tasks, but conveying that value to the board can be tricky. Luckily, there's a calculator to make it simple!
Cortex XSOAR gives your team everything you need to simplify security operations by unifying automation, case management, real-time collaboration, and threat intelligence management. With Cortex XSOAR, you can:
Scale and standardize incident response processes.
Speed up resolution times and boost SOC efficiency.
Improve analyst productivity and enhance team learning.
Gain immediate ROI from existing threat intelligence investments.
Business Benefits of Cortex XSOAR
The product capabilities of Cortex XSOAR provide tangible return on investment, saving time and resources in your Security Operations Center.
Improved resolution time and security operations center efficiency with automated, scalable playbooks covering a wide range of security use cases and real-time investigation and collaboration.
A central location for incident case management, facilitating analyst investigations and reducing triage time, so analysts can attend to more incidents and higher value activities such as threat hunting, system tuning and research.
The Cortex XSOAR ROI calculator covers some of the most common use cases for automation, including phishing, network, cloud, threat intelligence, malware, and vulnerability alert management. On average, our customers experience a 77% reduction in mean time to respond (MTTR) across these use cases. This savings leads to hours saved for the SOC that can be transitioned from reactive to proactive security activities. The reduction in MTTR also reduces additional headcount needs, resulting in savings for hiring, onboarding, and salary cost.
Your Customized Cortex XSOAR Business Case
Using this ROI calculator, you can create a custom report to show the business value - based on size and usage - that XSOAR can bring to your organization: Cortex XSOAR ROI Calculator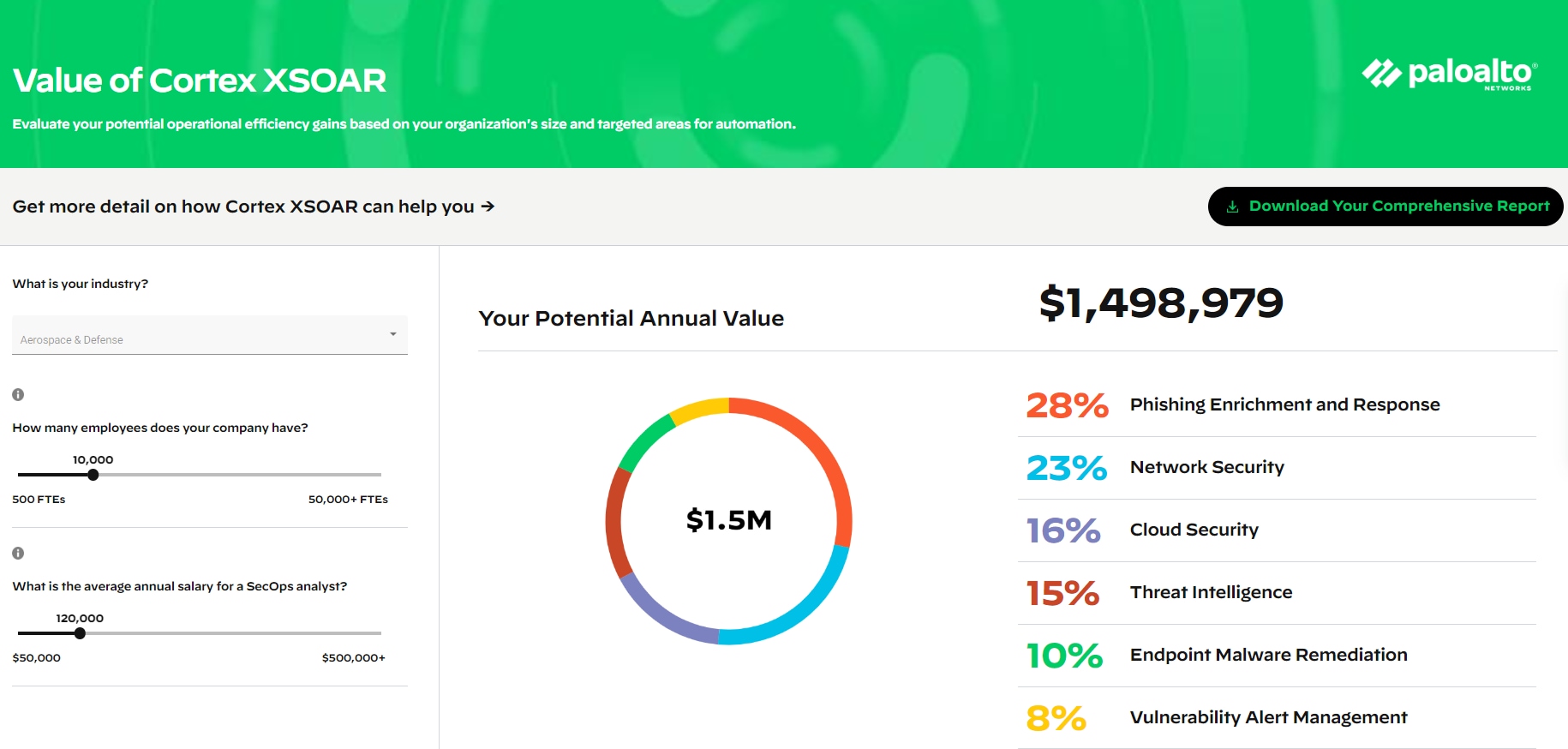 Next Steps
If you are interested in further customizing this business case and digging deeper into potential automation use cases for your SOC, contact our sales team.